HOME > Classical Music > Advanced Musician Support
Classical Music
Advanced Musician Support

As part of the Foundation's efforts to expand its area of support for young musicians that it has discovered and nurtured over the years, a chamber ensemble called the 'Kumho Soloists' was created in October 2007.
Since its establishment, the Kumho Soloists has featured regularly on stage and the musicians have proved their deep appreciation and strong dedication to performing chamber music. A wide range of repertoire, more than 80, has been played and, with its unique concert programming, the Kumho Soloists has been met with favorable reviews across the Korean classical music scene.
The Kumho Soloists also serves as a platform for the musicians who have been nurtured by the Kumho Prodigy, Young Artist, or Rising Star series to make their debuts. The ensemble is dedicated to developing the chamber music scene in Korea as well as the chamber music leaders of the future. The Kumho Soloists has become an ambassador for Korean classical music on the international stage and is actively giving dynamic and impressive performances abroad.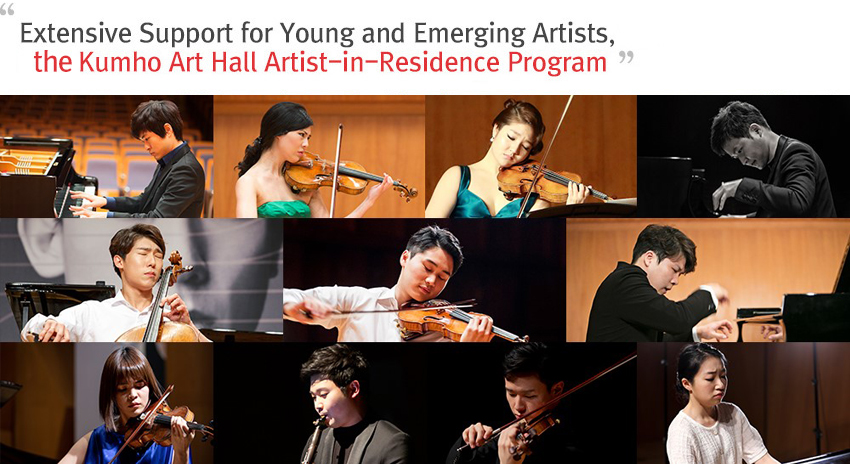 KCF, as 'the cradle of prodigies,' has always been a loyal benefactor of artists participating in the Kumho Series. In order to provide more extensive support for young and emerging artists the Kumho Art Hall launched the Artist-in-Residence Program in 2013, the first of its kind in Korea.
Kumho Art Hall aims to provide an environment where artists can concentrate on their musical activities. Furthermore it also provides a solid footing for them to collaborate with other artists in order to deepen their artistry.
Kumho Art Hall Artist in Residence Program
2013 Kumho Art Hall Artist in Residence: Pianist Dasol Kim
On the global stage Dasol Kim boasts an impressive resume. In 2012 he came second in the Concours Geza Anda Zurich. Previously, in 2011, he won third prize at the ARD International Music Competition. He was also a prize winner at the 2010 Queen Elisabeth Competition in Brussels, and a prizewinner at the Geneva International Music Competition in 2008. Following remarkable performance at 2011 Kumho Art Hall's Rising Star stage, he was then chosen to be Kumho Art Hall's inaugural artist in residence. He performed six times at Kumho Art Hall as the resident artist of 2013 ranging from Baroque to Jazz infusion and, despite being a then relatively unknown name, left an indelible impression on Korean audiences.


2014 Kumho Art Hall Artist in Residence: Violinist Hyeyoon Park
Hyeyoon Park won the Munich ARD Competition in 2009, at the tender age of 17, becoming the youngest person to ever win the competition. With this achievement, she has instantly captured the hearts of audiences all over Europe, especially Germany. For a while after the competition, she focused on performances for European stages and featured numerous concertos with acclaimed conductors and orchestras. Hyeyoon whose debut was Kumho Prodigy Concert Series recital in 2002, became Kumho Art Hall artist in residence of 2014. Her five concerts as the resident artist received as a welcome rain for Korean fans who were eager to hear her performance live in Korea.


2015 Kumho Art Hall Artist in Residence: Violinist Jinjoo Cho
Since her debut as part of the Kumho Prodigy Concert Series in 2000, Jinjoo Cho rapidly built her career in international stages winning countless crowns from international competitions. To name a few, she has won the 2006 Montreal International Music Competition and the 2010 Buenos Aires International Violin Competition. In 2014, she received the grand prize in the Indianapolis International Competition that is regarded as one of the highest violin competitions globally. Jinjoo presented four concerts in 2015 under a theme of 'Life'. She also participated in the Mobile Kumho Art Hall program, spreading the joy of music to youth in culturally disadvantaged areas.


2016 Kumho Art Hall Artist in Residence: Pianist Yekwon Sunwoo
Yekwon Sunwoo is one of Korean pianists with the most number of competition honors. Beginning with 2009 Concours International de Piano "Interlaken Classics", he won from eight international music competitions including the most prestigious competition in North America, the Van Cliburn International Piano Competition in 2017. His musical talent was discovered by the public through the Kumho Prodigy Concert Series in 2004. He was then chosen as Kumho Art Hall's rising star of 2015, which has led to the Kumho Art Hall artist in residence in 2016. He has built stronger fan base with five various stages presented remarkable stages with incomparable lyricism and passion.
2017 Kumho Art Hall Artist in Residence: Cellist Tae Guk Mun
Tae Guk Mun's musical gift was already foreseen with his first recital at the Kumho Prodigy Concert Series in 2004. In 2011, he conquered the André Navarra International Competition in 2011. And three years later in 2014, he became the very first Korean to place the first from the prestigious Pablo Casals International Cello Competition only at the age of twenty. After these accolades, he has quickly risen as a blue chip in the world's classical music scene. And in 2017, He was also chosen as the inaugural winner of the János Starker Foundation Award. Tae Guk performed at the Kumho Art Hall five times as an artist in residence in 2017 and proved himself to be the representing cellist of new generation.
2018 Kumho Art Hall Artist in Residence: Violinist In Mo Yang
Violinist In Mo Yang became the most sought after young virtuoso after the triumph from the International Violin Competition Premio Paganini in 2015. In Mo was not only the very first Korean to win the first place but also winner of the first prize that has not been awarded in nine years. He has then decorated many distinguished staged including concerto with Luzern Symphony Orchestra and Orchestre National de France, festival appearances at Gstaad Menuhin, Ravinia and Dresden Music Festival. In 2018, In Mo has returned to Kumho Art Hall as an artist in residence ten years after his debut in the Kumho Prodigy Concert Series in 2008. He is ready to capture the hearts of many Korean fans with five interesting concerts program including Paganini 24 Caprices recital.
2019 Kumho Art Hall Artist in Residence: Pianist Jonghai Park
Pianist Jonghai Park stood out from early on in his career, winning numerous prizes at prestigious competitions including the Dublin, Queen Elisabeth, and the Hong Kong. He was the 2nd prize winner at Concours Géza Anda and the jury rated Park as an outstanding pianist who makes music speak with passionate verve. He was presented as the Artist in Residence for 2019 and have presented five stages under a theme of 'Playground', the title given as he literally enjoys being in front of a piano and play around with the instrument and music. He has showcased his wide range of musical insight and color, and have established himself as one of the most interesting young Korean pianists.
2020 Kumho Art Hall Artist in Residence: Violinist Jiyoon Lee
First concertmaster of Staatskapelle Berlin, violinist Jiyoon Lee has rapidly built an international reputation as an emerging young artist, winning praise for her brilliant virtuosity and passionate performances. Jiyoon Lee first came to international attention in 2013 as she won the David Oistrakh International Violin Competition. She was subsequently a prizewinner of the Indianapolis Violin Competition in 2014 and the Queen Elisabeth Competition in 2015. In 2016, she was awarded the first prize at the Carl Nielsen Violin Competition. Jiyoon led the audience to the world of contemporary classic music that embraces pieces such as Debussy, Bartok, Janacek, Widmann with her two recitals, with her persuasive and enchanting interpretation.
2021 Kumho Art Hall Artist in Residence: Clarinetist Han Kim
Clarinetist Han Kim began playing the clarinet at the age of 10, and has already been recognized around the world as the most promising clarinet prodigy for his wondrous and mature playing. He is the 1st prize winner of Jacques Lancelot International Clarinet Competition, and the 2nd prize winner from esteemed ARD competition. He currently holds 2nd Solo Clarinet position at Finnish Radio Symphony Orchestra. He has presented four recitals under the program titled "On Air," performing a diverse repertoire from Mozart to Yun I-sang, and even challenging oneself to the world of Jazz clarinet, and showed genuine musicality of him as well the charms of the clarinet through a series.
2022 Kumho Art Hall Artist in Residence: Violinist Donghyun Kim
Violinist Donghyun Kim established himself to be one of the most promising classic artists of Korea by winning the 1st prize from George Enescu International Music Competition only at the age of 17, and also winning bronze medal from the Tchaikovsky International Competition, being the youngest finalist of the category. He is praised for his rich and graceful tone, crystalline technique, and "classic" interpretation that he features which reminds us of 20th century legendary violinists. Donghyun Kim would present 4 concerts under the theme of 'Temperature' that he's curated to express different warmth and coolness of violin pieces throughout the year.
2023 Kumho Art Hall Artist in Residence: Pianist Su Yeon Kim
Since her debut as part of the Kumho Prodigy Concert Series in 2005, Pianist Su Yeon Kim has earned worldwide acclaim by winning the First Prize of the Concours musical international de Montréal in 2021. She was the first Asian winner of the competition. Moreover, she was the only female and also the only Korean semi-finalist in the 2021 Queen Elisabeth Competition. As the artist-in-residence, Su Yeon will present five performances under the theme "Melodies: Paintings and Music" and elaborate those stages with her own colorful music.